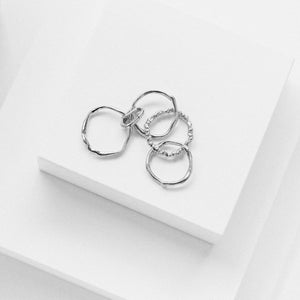 About:
Four piece link ring in Sterling silver, featuring four linked rings cast from hand sculpted soft wax. Each size is slightly unique due to different casts being used per size.
Wear across four fingers or stacked on one or two.
Details:
Recycled sterling silver. 
Aprox 2.5mm wide.
*Size refers to the largest finger or pointer.
Handcrafted in Germany.

Pieces are produced in LIMITED EDITION, when sold out they are available only as bespoke, please email contact@miesnobis.com for other size requests.