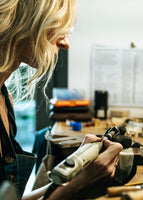 Responsibly Designed Fine Jewellery
Hand-crafted in our Berlin studio, Mies Nobis prioritizes sustainability, sourcing conflict-free gemstones from small suppliers and utilizing 90% recycled fine metals.
Each piece, sculpted in one-of-a-kind or limited editions, stands as a testament to our commitment to conscious luxury. Visit our studio to discover more.
Request an Appointment
Recycle Your Jewellery
With our commitment to sustainability, Mies Nobis offers recycling services to reimagine and repurpose neglected jewellery into bespoke designs.
Each reimagination echoes our ethos, utilizing original materials and gemstones to breath new life into forgotten treasures.

Find out more here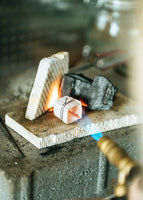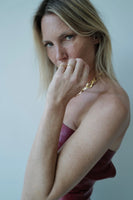 Mies Nobis Muses
Our models are our friends. For our Muse Series we capture individuals with captivating looks and intriguing personalities; intellectual, spiritual, or creative but always interesting. 

"As a designer of wearable art I often feel my work is not completed until my pieces find their person." 
- Millicent Nobis, Designer, CEO of Mies Nobis
Discover our muses